Some of the Voices of Jazz "historic milestones"
January 2007 - Voices of Jazz is born
December 2008 - First performance
May 2010 - First Dunedin performance(how we got our rehearsal space at Dunedin)
November 2010 - First Sanding Ovations
December 2010 - First Capri Dinner/Dance
March 2011 - First Safety Harbor 3rd Friday
June 2013 - First Gulfport Casino Concert
January 2014 - First St. Stefano's Dinner/Dance
November 2014 - 50th Performance - Safety Harbor Wine Fest
February 2015 - First Highland Lakes Concert
September 2015 - First Seminole Concert(most likely our largest audience)
June 2016 - First Tarpon Springs 1st Friday
December 2016 - 75th Performance - First Broadwater Concert
March 2017 - First Top of the World
2019 - 100th Performance - TBD
CHECK OUT OUR NEXT PERFORMANCES!
June 8 - Aston Gardens Concert - 3:00PM - 5:00 PM
Welcome To Our Band in 2019!
Voices of Jazz is a Dunedin, FL based big band that features classic big band jazz and swing music as well as modern arrangements of popular tunes. Our members are engaging and energetic volunteers who participate purely for the love of music, the enjoyment of playing their instruments and their passion for performing. Voices of Jazz is celebrating our 10th anniversary as we kick off the 2019 season and we'd love to see you at one or more of our performances this year. Please click the Performance Dates link at left to learn more.
Mission Statement
The primary function of Voices of Jazz is to provide a creative outlet for musicians, artists and entertainers through music and exhibition of talent in the highest quality. The objective for its members is to allow them the freedom to showcase their individual talents in an atmosphere of precision, discipline and uniformity while achieving a rewarding social experience. To achieve this objective Voices of Jazz philosophy is to encourage each and every member to perfect their diverse talents to a level of proficiency that will entertain audiences and provide participant satisfaction. Voices of Jazz endeavors to provide performers with a rewarding social experience, and to deliver to the audience a performance that is both exciting and of the highest quality allowed by the activity.
Voice off Jazz Annual Scholarship Program
Voices of Jazz, as a non-profit organization, strives each year to award a $1,000 scholarship to two local high school students. One award, the Danny Mariscal Memorial Scholarship Award is presented to a Dunedin HS music student who is going on to college. The second is awarded to another local student selected from the nominees provided by our members. We are proud of this tradition and count on the small performance fees and listener gratuities to make this happen each year.
Below is a "Thank You" note that we recently received from one of the grateful music students who was awarded the VOJ scholarship in 2016: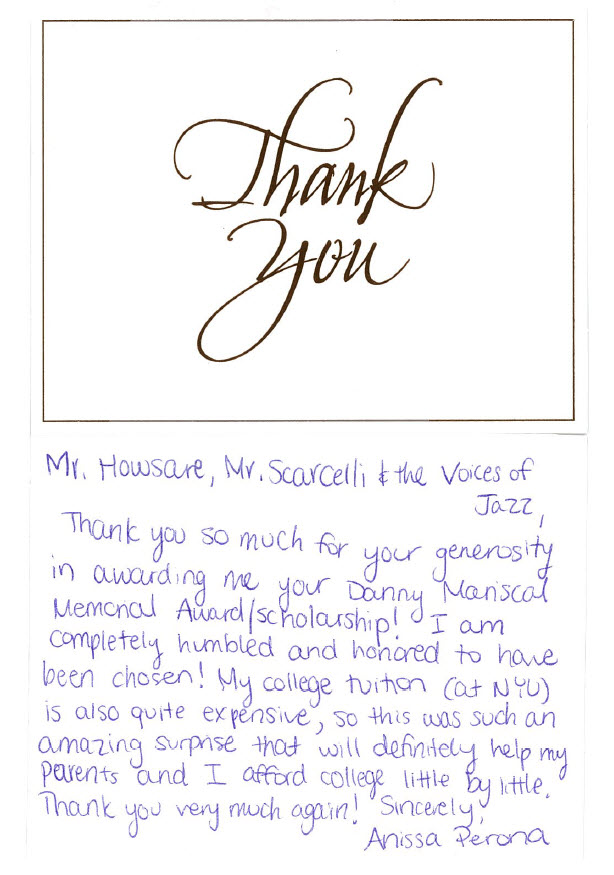 In addition, we also offer a music CD of 20 live performances at a cost of $10. All of these monies go toward our scholarship fund. You can buy a CD at every public performance.